Mind Over Money Educator Academy
Introducing two workshops to prepare Ontario teachers with curriculum-based tools that help integrate financial literacy into their classrooms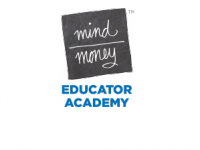 Where do you start?
The Mind Over Money Educator Academy will train and arm you with the resources you need to start teaching financial literacy in your classroom.
Two workshops available:
Introduction to financial literacy:
Provides an overview of financial literacy in Ontario and how the Mind Over Money program can support your curriculum in the classroom.
Integrating/teaching financial literacy:
Gives you hands-on activities and teaching tips to develop students' financial skills.
Q&A
Q:  How much does it cost?
A:  These workshops are available at no cost!
Q:  How long do these workshops take?
A:  Each workshop is typically 1½ hours but can be customized to suit specific audience needs.
Q:  Are the workshops held within set hours?
A:  We will work with your schedule to deliver teacher training.
Q: Where are the Mind Over Money Educator Academy workshops held?
A: We come to you (school, board, training centre) to deliver the workshops.
Topics: